Creator of Cycles Journal; Illustrator & Designer
Environmental Activist & Menstrual Awareness Advocate
Rachael Amber Longo is an illustrator, designer, writer, plant-lover and green witch based in Philadelphia who creates art to raise environmental awareness, social justice, and radical self care. She creates this annual lunar & menstrual tracking journal out of the heart-driven desire to empower us to care about our menstrual cycles and selves more deeply. Her sun is in Cancer, moon in Capricorn, and rising is Sagittarius. When she's not creating, she can be found exploring nature, tending to her plants, road-tripping, hanging out with feline & human friends, trying to meditate, or reading books or tarot.
Social: @cyclesjournal / @rachael.amber
Email: cyclesjournal(@)gmail.com
hello (@) rachaelamber.com
Website: www.rachaelamber.com
Healer, Doula & Womb Yoga Instructor
Julia teaches yoga, menstrual magic workshops and facilitates moon circles & retreats in Philly and beyond. Trained as a birth and postpartum doula and well-woman yoga therapist (Womb Yoga) she believes this work is spiritual and is humbled to serve the feminine in all forms.
Social: @magiajules
Website: www.julia-alvarez.com
Email: juliaalvarez712 (@) gmail.com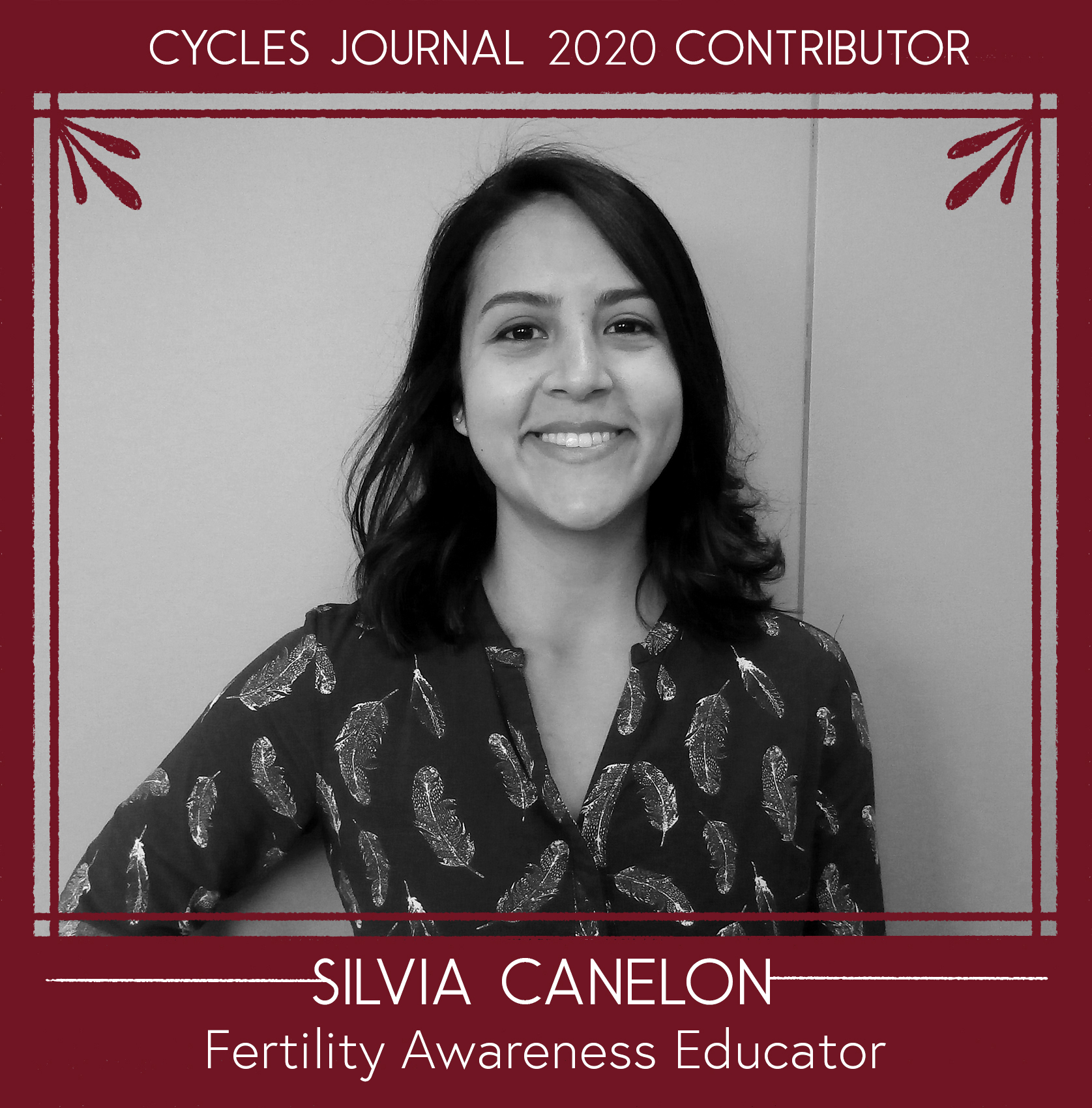 Fertility Awareness Educator
Silvia (she/her/hers) is completing her fertility awareness educator training through Justisse College International (https://justisse.ca/) from her home in Philadelphia, PA (USA). Fertility awareness has allowed her to cultivate a passion for empowering herself and others to gain knowledge about their bodies through the lens of reproductive justice. Her goal as a fertility awareness educator is to help others understand and advocate for their sexual and reproductive health wherever they may be along the reproductive spectrum.
Social: cyclecurious
Website: www.cyclecurious.github.io/
LinkedIn: www.linkedin.com/in/spcanelon/
Email: cycles.curious (@) pm.me
Feminist Advocate & Botanical Artist
Sadie Francis is an environmental artist, biophilic consultant, and naturalist. Her work mostly focuses on the exploration of ecofeminist themes and natural cycles. Her inspiration is sourced from her deep respect and gratitude for the seemingly unlimited healing and bio remedial powers of the natural realm. She largely works in epoxy resin, foraged botanicals, cyanotype, and various found objects. She's been leading workshops on menstrual health and menstrual product safety for 15 years. She ideated, and co-curated the first Menstrual Art show in Philadelphia with partners in crime Rachael Amber and Chelsey Everest.
Social: for natural philosophising and cat pics:
@awakeninglands art page: @onlyintheforest
Website: www.onlyintheforest.com
Email: sadiefrancis6221 (@) gmail.com
Nutrition & Health Advocate
Lauren has a degree in nutritional sciences from the Pennsylvania State University. Her passion for nutrition has always been connected to women's health and her areas of interest within the field are pregnancy and breastfeeding. She currently lives with her husband in Norway and spends her free time exploring the nature.
LinkedIn: www.linkedin.com/in/lauren-melda-437135114/
Email: laurenmelda (@) gmail.com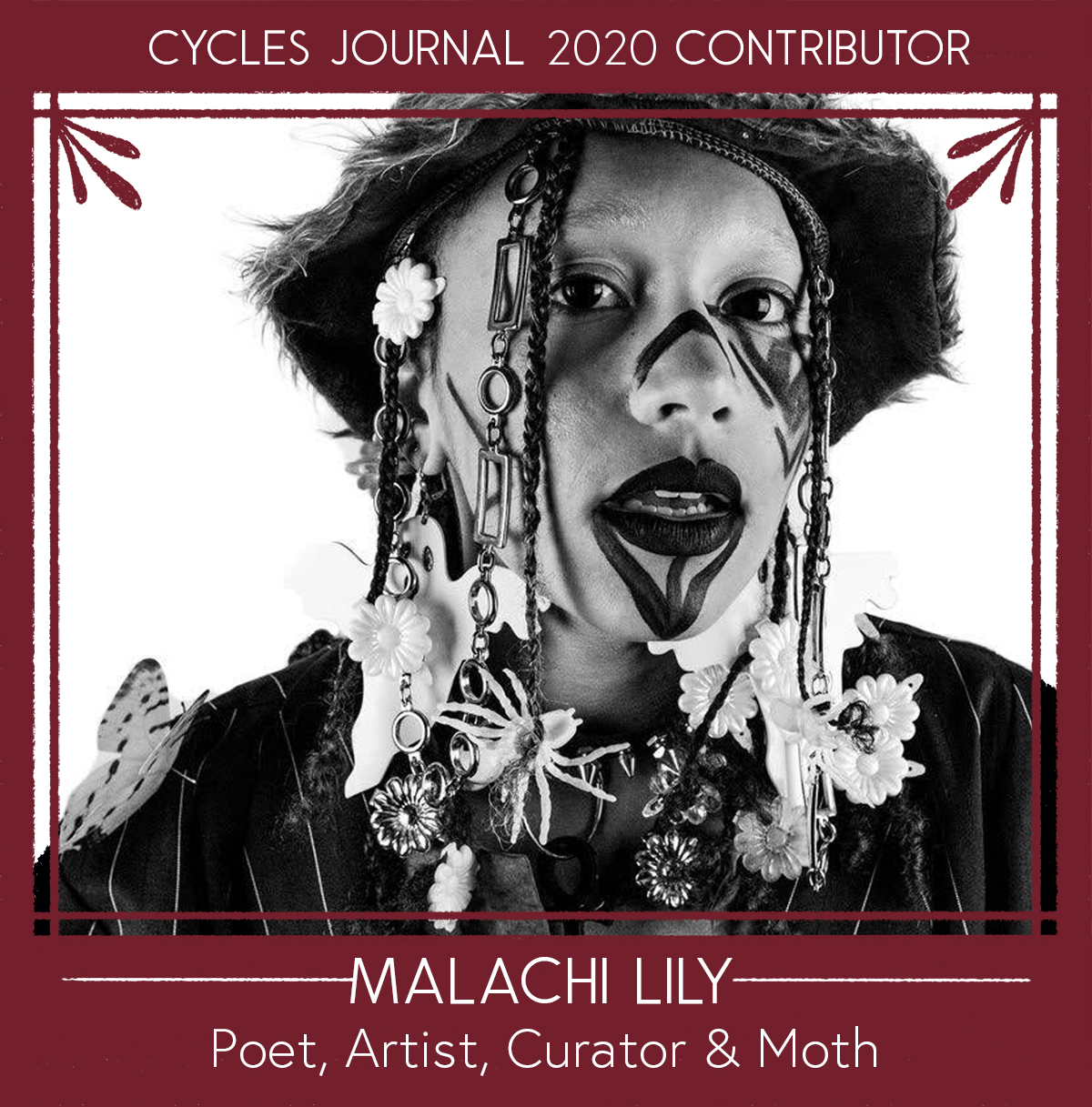 Poet, Artist, Curator & Moth
Malachi Lily is a shapeshifting, non-binary, black poet, artist, curator, and moth. They connect to the collective unconscious via energy work, Active Imagination, mysticism, myth, magick, folklore, and fairy tales. This channeling often takes the form of poetry, illustration, curation, and the aesthetic arts. Malachi is a liminal being of race, gender, artistic practice, and existence reclaiming the spiritual body of black and brown people. Their work offers methods to break these individual barriers and reveals the symbols, archetypes, emotions, and lessons that exist in everyone as a collective consciousness to support in transformation and the remembrance of who we are.
Social: @theholyhawkmoth @hawkmothevents
Website: maggielily.com
Email: maggielily (@) maggielily.com
Seer, Healer & Light Worker
Baseerah Sabreen is a Revolutionary Intuitive Seer, Conducting her Light Work in the Heart of Philadelphia, Walking in Spirit with Those who Seek to Introduce Alternative, Natural Healin' Methodologies into their Journey. Baseerah is the Manifesting Force Behind Light Beings Healin' Company, an Intuitively-Centric Spiritual Tools and Services Startup. LBHC was Created to Align the Mind, Body, and Spirit to its True Purpose Through Crystal Cleansing, Sound healing, Smudging, Chakra Readings, Using our Self-Published Taa Marbuta Chakra Deck, and Meditative Consultations. Through Vending Spirit Tools and Providing Intuitive Services at Local Healing and Metaphysical events, Baseerah has Created a One-of-a-Kind Pop-Up Alternative Healing Clinic, Which Serves a Variety of Philadelphia Communities. Along With Being an Alchemist, Seer, and Light Worker, Baseerah is an Ordained Spiritual Minister with her Bachelors degree in Metaphysics from the University of Sedona.
Social: @lbhealinco
Website: Lightbeingshealinco.com
Email: lbhealingcomp (@) gmail.com
Natural Dyer, Visual Artist & Healer
Lauren Schwind is an artist living in Philly under the name Subnormalchild. She uses a multitude of magical skills such as drawing, painting, natural dyes while also working as a healer, exploring the modalities of tarot and reiki.
Lauren's illustrations explore themes of the divine feminine or the shadow self. Issues of identity, sexuality, connectivity and isolation are depicted with a sense of honesty and reverence with a focus on a central language spoken in arrows and masks. These illustrations take new life as they have been recently transferred into her painting as well as being screen printed onto naturally dyed fabric. As she has explored the divine feminine, Lauren's work has shifted some into using plant-based materials to not just better honor the most sacred feminine (mother earth) but to help further explore the idea of working intuitively with her.
Social: @subnormalchild
Email: lauren.n.schwind (@) gmail.com
Website: www.laurenschwind.com
Sacred Artist & Hebrew Priestess
Kohenet Bekah Starr is a Sacred Artist exploring connections between Hebrew Mysticism and the Divine Feminine. She is a witness to the sacredness of all that is life, source, and creation.
Bekah is an ordained Kohenet (Hebrew Priestess) offering spiritual support through inspirational artwork and embodied ritual. Her artwork, workshops, and writing have been featured around the world. She lives with her amazingly supportive husband and their two inspiring children on the lands of the Wappinger First Nation people, also known as the beautiful Hudson Valley of New York.

Social: @bekahstarrart
Website: www.BekahStarrArt.com
Email: bekahstarr (@) gmail.com
Visual Artist, Musician & Herbal Enthusiast
Abigail Vettese is a Philadelphia based artist, herbal enthusiast, and environmentalist. Her vision is to release trauma through art, natural wellness, and intentional living.
"I believe in art as a form of alchemy, allowing us to transmute our experiences into something meaningful. Through the birth of creative ideas, we develop a superconscious lens through which we can explore life and connect with our own divinity, and more importantly, I believe we can heal through the manifestation of these concepts."
Social: @theshapeofsanctum
Website: www.abigailvetteseart.com
Email: abigailvettese (@) gmail.com

Herbalist
Charlotte Snipes-Wells began her herbal journey at the Wildflower School of Botanical Medicine, in Austin Texas. In 2018, Charlotte studied under both 7Song at The Northeast School of Botanical Medicine - intensive program, and Tammi Sweet & Kris Miller at Heartstone Center for Earth Essentials. In 2019 she continued learning under Kenton Cobb's Grassroots Herbalism Intensive Program. Taking these courses gained her a comprehensive understanding of herbal medicine in clinical, spiritual, activist and community centered approaches. Currently, Charlotte is a community clinical herbalist, and is learning to grow a medicine garden.
Instagram @heart.of.the.moon.herbs
Email: heartofthemoonherbs (@) gmail.com